FAMILY-OWNED AND AMERICAN-MADE
American-made Cambria® combines breathtaking beauty, outstanding durability, and stain resistance with the convenience of food safety and maintenance-free cleanups to give you perfect surfaces for life. With Cambria, you can expect years of flawless service, backed by a Full Lifetime Warranty for the ultimate peace of mind.
THE LEADER IN DESIGN INNOVATION
Cambria® leads the industry with the most diverse and innovative designs to choose from for your material selection.
THE NATURAL CHOICE
Cambria is created from pure, natural quartz, one of the hardest minerals on earth, for superior durability and performance.
SUPERIOR PERFORMANCE
Cambria natural stone surfaces are scratch resistant and never need sealing or polishing—simply clean with warm water.
A HEALTHY KITCHEN
Cambria is nonporous so staining liquids and harmful bacteria are never absorbed.
AMERICAN CRAFTSMANSHIP
Cambria is hand crafted from start to finish to ensure the highest quality down to the smallest details.
ENVIRONMENTALLY FRIENDLY
From responsible mining to recycling all the water used during processing, Cambria is dedicated to preserving our environment in every way possible.
SERIOUS ABOUT SERVICE
A carefully selected network of partners whose ideals match ours ensures premium service, the best experience, and your complete satisfaction.
FAMILY OWNED, AMERICAN MADE
With a rich heritage in Minnesota, Cambria is the leading family-owned, American–made company in the natural stone industry.
FULL LIFETIME WARRANTY
Exceptional products enable Cambria to confidently guarantee your peace of mind for life.
CAMBRIA® INSPIRATION GALLERY
CAMBRIA® EDGE PROFILES
19 edges. And just one surface that's perfect for you. Once you choose a design, complete your plan by selecting a height and edge.

    Ridgeline Edge (TR3)
This simple, yet bold profile has a 1/8″ radius. Shown in ROXWELL™.
Available Depths   2cm   3cm   4cm   6cm

  Byrn Edge (VF)
This profile, often called a reverse Waterfall, is a traditional design with a twist.  Shown in ELLA™.
Available Depths   4cm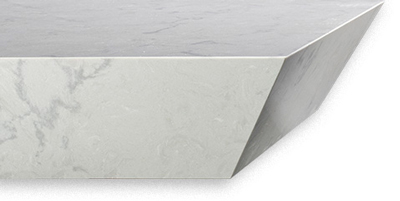 Idris Edge (IM)
A reversed and sharply slanted mitered edge gives this profile a dramatic appearance. Shown in SWANBRIDGE™.
Available Depths   2cm   3cm

 Shale Edge (1Z)
This edge seamlessly integrates flush with a cabinet door creating a modern, sleek look. Shown in DUNMORE™.
Available Depths   2cm

 Mesa Edge (QM)
This edge is a traditional ornate ogee edge reversed down, giving it a modern spin. Shown in HELMSLEY™.
Available Depths   6cm

 Cascade Edge (VFZ)
Combines a reverse Ogee edge stacked on top of a straight drop modernizing the traditional edge. Shown in SUMMERHILL™.
Available Depths   6cm

 Cornice Edge (MQ)
Our fullest Ogee profile design, also called a Cove Ogee over Ogee. Shown in BELLINGHAM™.
Available Depths   6cm

 Moraine Edge (Chiseled)
For a natural, rustic appearance, choose this hand-finished profile often named Chiseled, Broken Edge or Rock Face. Shown in OAKMOOR™.
Available Depths   2cm    3cm    4cm    6cm

 Ledge Edge (MD)
Fading back at the bottom edge, this profile is sometimes named a Reverse Bevel or Plater. Shown in WELLINGTON™.
Available Depths   3cm

 Boulder Edge (F+V)
This profile, often called Waterfall, is one of our most ornate. Shown in GALLOWAY™.
Available Depths   4cm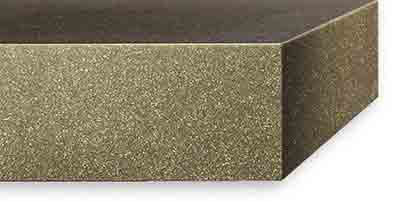 Rimrock Edge (Mitered)
The Mitered edge is an edge assembled from two pieces, to give a countertop with less weight the appearance of a much heavier one. Shown in BRIGHSTONE™.
Available Depths   2cm    3cm

 Volcanic Edge (V)
Deeply rounded at the top and bottom of the edge, this profile is sometimes also called a Bullnose or Full Bullnose. Shown in BERWYN™.
Available Depths   2cm    3cm    4cm    6cm

 Glacial Edge (FZ)
A classic Ogee profile. Shown in HARLECH™.
Available Depths   4cm

 Basin Edge (FS)
Our thinnest Ogee profile. Also called a Saskatoon Ogee or Short Ogee. Shown in PRINCETOWN™.
Available Depths   3cm

 Treeline Edge (Z+S)
This angled edge is often called a Bevel. Shown in BERKELEY™.
Available Depths   3cm    4cm

 Double Treeline Edge (A+R)
An angled cut to both the top and bottom edges, sometimes called a Double Bevel. Shown in FAIRBOURNE™.
Available Depths   2cm    3cm    4cm

 Summit Edge (T)
Both the top and bottom edged of this edge profile are rounded. It's sometimes called a ¼ Round Double.  Shown in DARON™.
Available Depths   2cm    3cm    4cm

 Piedmont Edge (A)
Softly rounded on the top edge. Additionally referred to as ½ Bullnose, Demi Bullnose or a ¼ Round. Shown in WHITNEY™.
Available Depths   2cm    3cm    4cm

 Seacliff Edge (Z)
The edge is beveled, not rounded, at the top, often referred to as an Eased profile. Shown in WINDERMERE™.
Available Depths   2cm    3cm    4cm
MAKE YOUR CAMBRIA® DREAM KITCHEN A REALITY
With Finance by Cambria, you can bundle virtually everything together for your kitchen, bath, or other remodel project. Just start with beautiful Cambria natural stone surfaces, and then add other interior remodel products and services we offer. With convenient payment plans to match any budget, Finance by Cambria makes it easy and affordable to start your dream project today.
*Loans provided by EnerBank USA, Member FDIC, (1245 Brickyard Rd., Suite 600, Salt Lake City, UT 84106) on approved credit, for a limited time. Repayment terms vary from 12 to 144 months depending on loan amount. 8.99% to 12.99% fixed APR based on credit worthiness, subject to change. The first monthly payment will be due 30 days after the loan closes.
FINANCE BY CAMBRIA™
Finance by Cambria offers flexible short- and long-term options that simplify budgeting. All Finance by Cambria options offer:
Secure paperless application in under 10 minutes
No prepayment penalties
No application fees
No closing costs